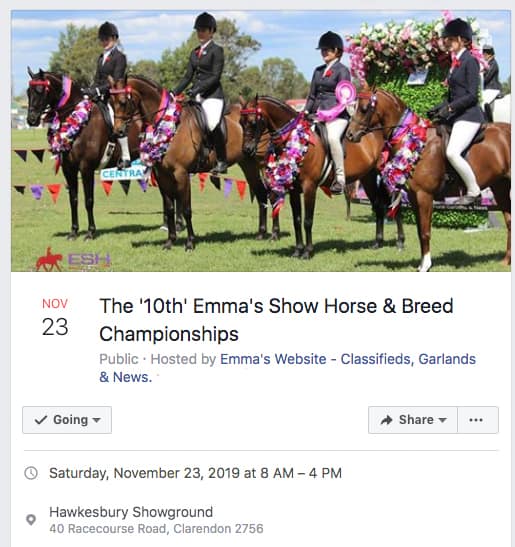 Click above to join the Emma's Championships Facebook Listing.
ENTRIES NOW OPEN!– Through Nominate or Emma's
STABLES – these are booked when completing your entries and on a first come basis. The system will allow you to select your own stables through the map as well as camp sites. Regardless of whether you require power or not the showground policy is for all competitors staying on the grounds for either Friday or Saturday night to pay $30.00 for Camping. This covers their cleaning of facilities, lighting and security.

ENTRIES –  are open now to allow competitors the ease of budgeting during the year as well as the ability to enter or add classes throughout the open entries period prior to the closing date. This is done by using the Receipt number you will receive from Nominate upon your initial entry. The "Event Fee' is only payable once so if you are entering a few classes each week for example you will not pay multiple 'Event fees'.

Refunds are available at any time prior to the closing date (Minus the Event Fee), after the closing date of entries there will be no refunds for any circumstances. Swapping of horses may be accepted upon contacting Emma.

Nominate accepts major credit cards. For Direct Deposit and Part Pay entries please email Emma to make arrangements.

All competitors that enter have agree to abide by the 2019 Emma's Show Horse Championships Rules & Regulations,and comply with the applicable Class eligibility rules.
Schedule of Events & Judges:-
This year will again see 8 rings with many all new events. We regret that some breeds are no longer catered, this has only been due to a continued decline in numbers. For any breeds not included there is a new 'Open Led Breeds & Ridden' section in height sections.
To view Schedule, Entries and Judges listings – Click here for PDF File >>
More Classes:-
We present this years Schedule. The changes include:-
Designated "Child's Ring" with all Handler, Walk & Trot, Leading Rein, First Ridden & Youth Events
Open Rider Classes scheduled in 1 ring with additional Double Chance events.
Split Height Categories for all Championship Events in Open & Show Hunter
Breed Rings have been extended to 3 Rings and condensed with the plan for them to be completed by the time Open/Hunter Championships commence.
Breed Ridden Events – split into Height Classes.
New Breed Classes – Led & Ridden Thoroughbred, Over Height Riding Ponies, Open Led & Ridden sections catering for Breeds not in the schedule.
New Championship Events – Ridden Mount any Height Ridden by a child at Walk & Trot. Ridden Senior Mount 14 Years and over.
Finalist Placings in Championship events – catering for Top 5 or Top 10 dependant on entries.
Fancy Dress – still FREE ENTRY! This year there is a class number so that entrants can nominate for this event at no cost.
SPONSORSHIP of ESH CHAMPIONSHIPS;-
Gold & Platinum Sponsorship Packages will include for the sponsor FREE HORSE Entries, Presentations on the day, Banner and or Trade Stand if applicable & 12 months Unlimited Advertising on Emma's.
Sponsorship packages are:-
BRONZE PACKAGE:- Product Donations – we welcome Businesses to provide Products/Services as prizes for Classes. We would request to have these prior to the day, for tagging & sorting. Dependant on the donated value will determine the Sponsor benefits to be received.
SILVER PACKAGE – $100.00 – for the purchase of an Embroidered Rug with your name or Business details along with Class name.
GOLD PACKAGES of $250.00:–  for Championship Class – for the purchase of an Embroidered Rug, Platinum Triple Row Garland, Special Sash & additional Prize.
This package includes FREE Horse entry to the Show (up to 3 of the Sponsors own horses), listed as official Show Sponsor, Banner on Emma's Website for 12 months, Free unlimited Classifieds & Business features!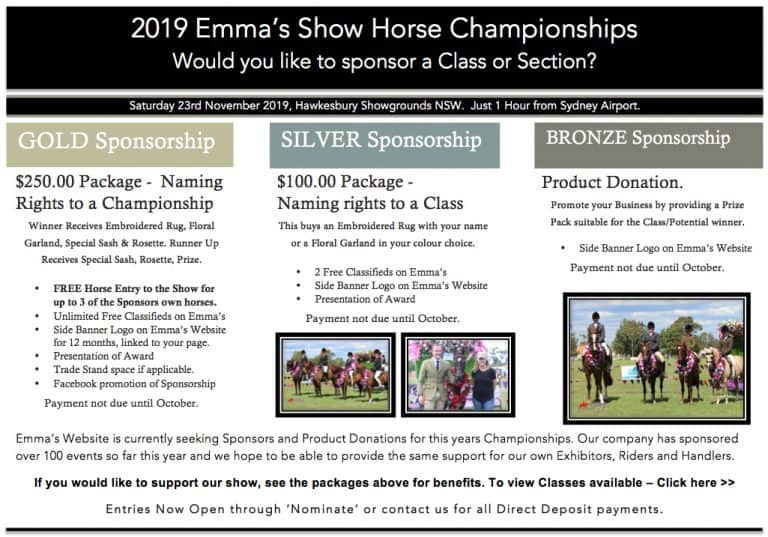 Stabling & Camping Bookings
Pre Booked & paid Stabling & Camping is available. There is a large stable block, wash bays along with powered camp sites. Excellent facilities include showers, toilets and the showground is walking distance to a hotel, pub with bistro and service station. 
This year the Stabling and Camping bookings are through NOMINATE. When you proceed to enter the show, the initial pages on Nominate will provide details on camping and a map to select your stables.
We recommend for those people who are travelling – to book their stables early as they are on a first come first in bases. You can do this and also enter say 1 Class for the moment, then once you budget allows, use your Nominate entry Booking number to log back into the system to complete the rest of your entries at a later date. The Event fee is a one off fee only payable once.
You can also add entries as often as you require, using your Reference number. This make it easy so you can do classes as you can afford rather than all at once the day of closing date!
  To book- Click here >
Please note: The team at ESH run this event as a non profit exercise. All additional funds through entries and sponsorships are put directly back into the show. We do not have memberships/insurances to assist with the running of the show – all entry fees and sponsor contributions go straight into the costs of the event and prizes.