Welcome to Emma's Newsroom:- JANUARY 2015.

New:- Classifieds, Programs, New Instock Garlands

We are OPEN all this Long Weekend for website updates.
Email us at:- sales@emmaswebsite.com.au or view our 'Contact us'  for further details.
Premium Listings shown here.  All most recent listings shown further below.

10% off ALL GARLAND ORDERS & PURCHASES DURING JANUARY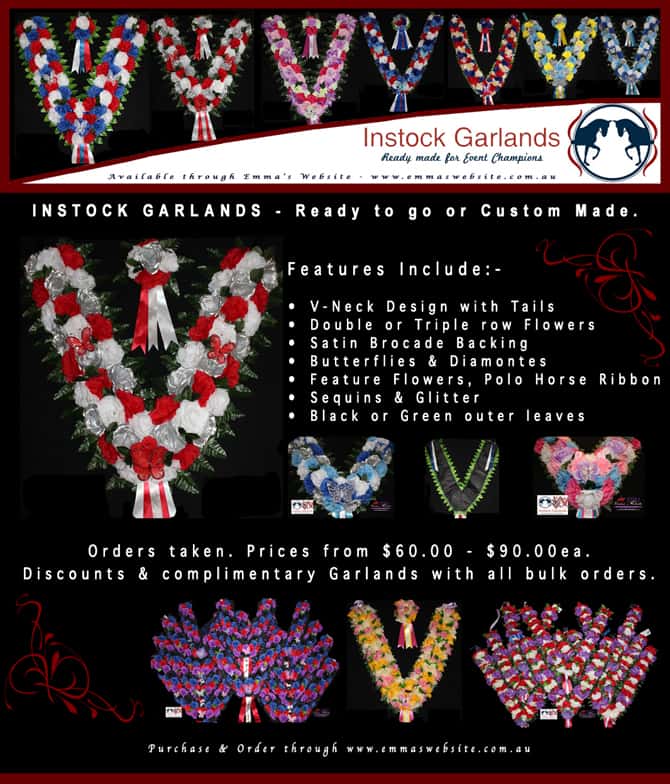 SPONSORSHIP FOR EVENTS – DID YOU KNOW…..
If you order or purchase 5 or more Garlands through Instock Garlands for your upcoming event – we will provide additional items to match as sponsorship! In addition Emma's Website will provide Gift Vouchers as extra prizes. A great incentive for Events. Email us to sales@emmaswebsite.com.au for details or see menu tabs above.

The latest 30 Classifieds on Emma's.
 NEW LISTINGS:- Show Horses, Show Hunters, Saddlery, Horse Floats, Breeding Horses.
Viewer note:- This section below may appear different for a short periods due to format upgrades, thank you.
To view all Classifieds available on Emma's – See side menu above or

Click here >>