Welcome to Emma's Newsroom:- SEPTEMBER 2014.

New:- Premium & Standard Classifieds.

Email us your advertisement for quick same day service!
Email us at:- sales@emmaswebsite.com.au or view our 'Contact us' menu tab for further details.
'Premium Listings' shown below – click photos to view.' Top 30′ Standard listings shown further below

CURRENT NEWS ITEMS FOR VIEWER INTEREST:-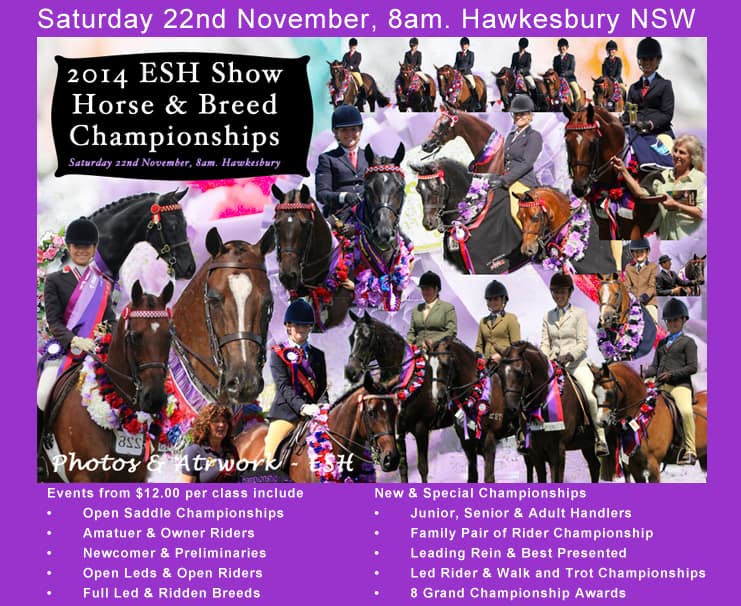 Home of the 2014 ESH Show Horse Championships, Australia
Click on Graphic above to view full details. Entries Closing October. Help sponsor our show, great benefits from Advertising to Trade Stands & Horse Entries!
See below for Ringside Chatter News
Latest 30 Classifieds – Also see menu above for more listings.
NEW:- Horse Floats, Broodmares, Saddlery, Show Horses, Show Hunters

MORE ADVERTISER & RINGSIDE CHATTER NEWS:-  

Wyong Produce & Second Hand Saddlery – News
Wyong Produce are now proud stockists of the Bamboo Equestrian range! Come in and have a look at the products, or alternatively you can purchase directly from our online store at http://wyongproduce.ecwid.com/. We are also stocking the underwear, singlets, and socks which come in a great range of colours.