Welcome to Emma's Newsroom:- OCTOBER 2014.

New:- Premium & Standard Classifieds, Programs

See logo right, for our current Accessories Special offers.
Email us at:- sales@emmaswebsite.com.au or view our 'Contact us' menu tab for further details.
'Premium Listings' shown below – click photos to view.' Top 30′ Standard listings shown further below

CURRENT NEWS ITEMS FOR VIEWER INTEREST:-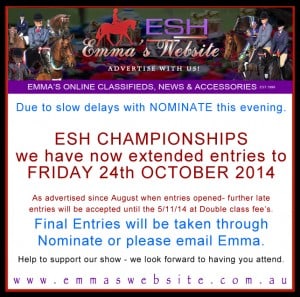 2014 ESH Championships
ENTRIES Extended to Friday 24th October, Midnight.
Due to some slow time delays with the Nominate System over the past 24 Hours for exhibitors with last minute entries – we have extended the entries to this Friday.
As advertised since August – any further late entries after Friday will be accepted online or through contacting us by email – at Double the Class entry fee (not event fee). 
Please do not hesitate to contact us for any assistance. Thank you for your support.
Saturday 22nd November, Hawkesbury Showgrounds. A Royal performance show.
Latest 30 Classifieds – Also see menu above for more listings.
TODAY'S LISTINGS:-  Show Horses Youngstock, Warmbloods, Saddlery, Show Horses,
To join the Emma's Website Public Facebook pages – Click here >>