Welcome to Emma's Newsroom:- AUGUST 2014.

Today:- Classifieds, Accessories Specials, Instock Garlands.

Viewer rewards for current & new Advertisers online shortly!
Email us at:- sales@emmaswebsite.com.au or view our 'Contact us' menu tab for further details.
'Premium Listings' shown below – click photos to view.' Top 30′ Standard listings shown further below

CURRENT NEWS ITEMS FOR VIEWER INTEREST:-
 Current Accessories & Advertising Specials at Emma's!
• Standard Sheepskin Saddle Pads – $65.00 each or 2 for $120.00
• All Main colour Black Feedbins – $55.00, with or without lids.
• ALL Haybags any colours – $40.00 each
• Instock Garlands – New garlands being made, with FREE Bridle Garlands!
• Advertising rewards online Monday and valid for New Advertisers and viewers with Classifieds currently online!
Prices not including postage or Embroidery, must be ordered during sale time to take advantage of the sale prices.
 SEE BELOW FOR ADVERTISER NEWS & RINGSIDE CHATTER
Latest 30 Classifieds, in the following categories.
New Today:-  Show Hunters, Show Horses, Saddlery, Horse Floats, 

MORE ADVERTISER & RINGSIDE CHATTER NEWS:-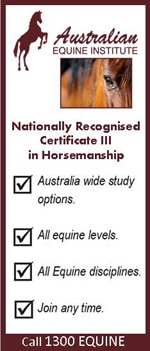 Welcoming another new Business Advertiser to Emma's:-
Australian Equine Institute – Horse Course
The Australian Equine Institute is Proud to Offer Quality Equestrian Education Approved by the Australian Skills Quality Authority. Australian Equine Institute's vision is to build partnerships between riders/owners and their mounts to promote the standard of equine ownership and participation. Through a professional approach to education we aim to enable our clients to build solid foundations based on respect and trust between themselves and their equine partners
AEI envisions future improvements in the recreational equestrian industry and will endeavour to minimise poor equine practices through the education of recreational owners/riders and submissions to relevant advisory boards and regulative bodies.
The expertise of the AEI team is combined with industry consultation during the development of all Units and Qualifications. The provision of courses at AEI follows extensive research, consultation and development to ensure that AEI can offer the best quality education and most up-to-date information. Currently offering our Certificate III in Horsemanship around Australia as well as running clinics to promote group learning in the Hunter Valley, check us out at www.horsecourse.com.au
See us on facebook or by contacting our friendly staff at AEI head office 1300 EQUINE

Wyong Produce & Second Hand Saddlery – News
Wyong Produce are now proud stockists of the Bamboo Equestrian range! Come in and have a look at the products, or alternatively you can purchase directly from our online store at http://wyongproduce.ecwid.com/. We are also stocking the underwear, singlets, and socks which come in a great range of colours.