Welcome to the Emma's Website Newsroom 

New:- Classifieds, Garlands, ESH Championships.

We are OPEN all this weekend for updates as received.
Email:- sales@emmaswebsite.com.au or view 'Contact us' menu tab.
Premium Listings shown here. Recent listings shown further below.

..
2015 Emma's Show Horse & Breed Championships – Latest News.
Early details of Championship Classes & Categories are now online – Click here to view >>
..

..
Emma's Accessories – ORDER NOW FOR JULY & AUGUST EVENTS!
Order now – Pay Later options available. Place your order and advise of the time you require it for. A small deposit require and the balance paid when you need it! Contact us for all enquiries, photos of designs and colours can be provided to assist in your ordering.  Try our popular Polo Horse Binding!
..

ORDER NOW FOR SPRING SHOWS – Ready made or custom quantity orders.
Ready made or quantities available for custom orders.  Catering for your shows colours. A large selection of Ready Made Garlands also on our website.  SPONSORSHIP available. $40.00 to $100.00 each. Rosettes $10 – $25 ea.
Shown below and available now, NEW Garlands with matching Rosettes. Click here to view >>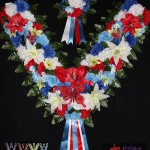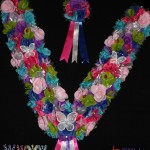 .. 

Emma's – Business Advertisers News:-
HORSE PLAY GAME – Have you seen this yet? It's a horsy persons must have game AND a great Aussie story. WIN a box of this Award winning new Aussie game sensation Horse PLAY. PERFECT warm winter indoor fun – especially during school holidays!  Click here to view news >>
WHITE HORSE EQUESTRIAN -  Here is something NEW ! WHE Patent Leather Cavesson Noseband & Patent Browbands. Nosebands Available from Small Pony to Warmblood  Sizes.  We can also offer you the matching Patent Leather Browband if you want to have the perfect match! Take a look also at the WHE Patent Leather Headcollars, Spur Straps, Number Holders for the ultimate package. See listing below for more details.
AUSTRALIAN EQUINE INSTITUTE -  Win a FREE 10″ Tablet! Enrol in the Certificate III in Horsemanship online course and receive a 10" tablet to do your course when you quote the voucher code " JULY TABLET". Whether you are a first time horse owner, an experienced rider or want to work with horses this course is for you!!. Don't miss out on this great offer . See listing below for more details.

The latest 30 Classifieds on Emma's.
 NEW LISTINGS:- Equine Products, Show Hunters, Show Horses, Saddlery, Horse Trucks.
To view all Classifieds available on Emma's – See side menu above or

Click here >>