Welcome to Emma's Newsroom:- SEPTEMBER 2014.

New:- Classifieds, Event Programs, Instock Garlands

Results being collating for publishing – email us yours to be included.
Email us at:- sales@emmaswebsite.com.au or view our 'Contact us' menu tab for further details.
'Premium Listings' shown below – click photos to view.' Top 30′ Standard listings shown further below

CURRENT NEWS ITEMS FOR VIEWER INTEREST:-
Royal Show News – 2015 Canberra Royal Show
Schedules for the 2015 Royal Canberra Show are now available  in Emma's Event Directories. Entries Close 13th October. Judges are:-
Ms Robyn Anderson - Light Harness
Mrs Jenni Cesnik - Welsh & Part Welsh
Ms Elizabeth Fricker - Show Hunter Galloway, Australian Saddle Pony Association, Pony Club
Ms Margaret Fricker - Australian Pony, Riding Pony Stud Book
Mr Keith Jones - Campdraft, ASHLA, Australian Stock Horse, Junior Judging
Mrs Lisa McMaster - Galloway Hack, Riding Pony Show Hunter, Thoroughbred
Ms Cheryl Noble - Australian National Saddle Horse Association
Mr Warren Pratley - Hack, Show Hunter Pony, Thoroughbred
Mr David Ross - Arabian, Bucksin, Palomino, Pony Hack
Ms Lindy Walker - Adult & Junior Rider, Leading Rein, Led Riders, Show Hunter Horse
Instock Garlands – New ones added!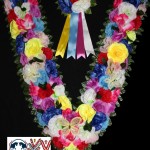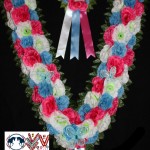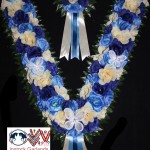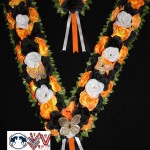 Secure your stunning Horse & Rider Garlands for your upcoming Event. From just $60.00 each with a Free Bridle/Arm Garland.  
V-Neck Garlands in Medium & Large Sizes. Rider & Horse Rosettes from $15.00  
 SEE BELOW FOR ADVERTISER NEWS & RINGSIDE CHATTER
Latest 30 Classifieds, in the following categories.
New Today:-  Broodmares, Show Hunters, Show Horses, Saddlery, Horse Floats, 

MORE ADVERTISER & RINGSIDE CHATTER NEWS:-  

Wyong Produce & Second Hand Saddlery – News
Wyong Produce are now proud stockists of the Bamboo Equestrian range! Come in and have a look at the products, or alternatively you can purchase directly from our online store at http://wyongproduce.ecwid.com/. We are also stocking the underwear, singlets, and socks which come in a great range of colours.