Welcome to Emma's Newsroom:- MARCH 2014.

New:- Premium & Standard Classifieds.

Emma's Website will be open all weekend for Classifieds & News.
Email us at:- sales@emmaswebsite.com.au or view our 'Contact us' menu tab for further details.
New 'Premium Listings' shown below – click on view details.' Top 30′ Standard listings shown further below

Current news items for viewer interest – from Emma at Emma's Website:-

Emma's Banner Advertisers – Wyong Produce & Saddlery
Wyong Produce & 2nd Hand Saddlery have now in stock a great range of Second Hand Show, Dressage and Performance saddles available for immediate sale. See link below for a comprehensive range and photo gallery for each saddle. EFTPOS available. Can be purchased by Phone, Email or come and visit our store.
http://www.wyongproduce.com/Dressage—Show-Saddles.html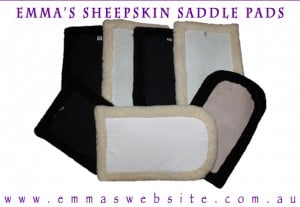 ESH Featured Product – Recent Customer orders.
ESH Sheepskin Saddle Pads are made from the finest Australian 'Merino' Sheepskin Fleece. Can be made with Standard Refined Edging or thicker style. We make our saddle pads based on saddle size only, not style.
Emma's own concept of Cushioned Saddle pads made with a specially built-in polyethylene cushion. ESH riders are now using this cushioned pad with great results. No more need for a Gel Pad – Feels like your horse is wearing one – but with only the look of a Saddle Pad.  Click here to view more >>
Shown here – Part 3 of customer Orders required for NSW HOTY & Grand Nationals!
Shown below:- The latest '30′ new Advertisements at Emma's.
Newest listings are in following categories.  See our Classified menu to view more:-
Transports – Floats – (Equus 2HA with Living)
Saddlery – (ShowStoppers Jacket, County Warmblood Saddle)
Show Hunters $15k – $20k – (Childs Small Galloway)
Show Hunters $10k – $15k – (Champion Childs Galloway)
Show Hunters $5k – $10k – (Large Pony)
Show Horses $10k – $15k – (Small Pony mare, Childs Small Hack,)
Show Horses $5k – $10k – (Hack or Dressage Mount, Royal Show Small Hack, Large Hack, Small Pony)
Show Horses $2k – $5k – (Small Hack, Large TB Hack, Riding Pony Gelding )
ADVERTISEMENTS – RECENT VIEWER REQUESTS:- 
Emma's Website has been contacted by a number of viewers this week, looking for and to purchase:-  Small Show Hacks, 2 Horse Angle Floats, Old Style County Saddles as well as Show Hunter Ponies/Working Hunters. If you have any of these categories and would like to advertise on our website, please don't hesitate to Email us.
Photos on all pages, for all advertisements will enlarge to full image when clicked on.
Event Programs welcome from ALL states – all diciplines.  Event Cancellation or Wet Weather notices will appear here. See our Event News menu tab above & click on 'Programs & Schedules' to view full details.
Event Results & Viewer Photos - Click here>>
Click on link above to view results submitted to Emma's for Publication.  Those viewers who submit results and photos this week will go into the draw to WIN an ESH Accessories Haybag in the month of January.  Simply email us your Results and Photos from all states, to be eligible. It's that easy! Winner to be randomly drawn and announced here.