Welcome to Emma's Newsroom:- APRIL 2014.

New:- Classifieds, SOLD Feedback, Event Programs

Emma's Accessories Easter Special - 20% off all Navy Blue Feedbins & Haybags, any styles & sizes with all colours of Bindings and designs. Embroidery not included.
Email us at:- sales@emmaswebsite.com.au or view our 'Contact us' menu tab for further details.
New 'Premium Listings' shown below – click on view details.' Top 30′ Standard listings shown further below

Current news items for viewer interest – from Emma at Emma's Website:-
Welcoming another new Business Advertiser to Emma's Website:-
The Property Market specialises in Rural and Lifestyle Properties. Melanie Rose is part of the Dynamic team at The Property Market, and as an equine enthusiast, and former show rider, Melanie has the knowledge you need when buying or selling your rural or lifestyle  property. For a relaxed and obligation free property appraisal give Melanie a call on 0438 886 514 or email melanie.rose@thepropertymarket.com.au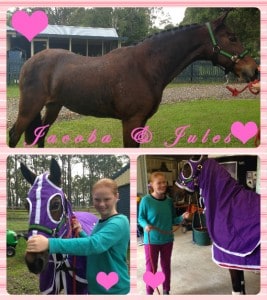 News from Emma's Website – RDA Events at Sydney Royal.
This week I had the pleasure of helping a very excited girl prepare for the Riding for Disabled (RDA) Classes at Sydney Royal tomorrow, her first Royal. Take the excitement we all have ourselves in the countdown for the Royal and times that tenfold for these competitors that do the same but with all forms of disabilities. It's just as important to them as it is ourselves in regular events.
Family member Jacoba Rudder arrived from Country NSW with her 25yo 'paddock pony' which we had great fun in transforming into looking the part & gleaming with the appearance like she had belonged there for years!
Sadly I wasn't able to attend the day she competed but was so very delighted and proud to be phoned with the news that Jacoba and Jules were BLUE RIBBON WINNERS! Well done to her and all of the competitors in the RDA Events.
Shown below:- Premium & Standard Listings in all categories.
New listings are in following categories.  View Classifieds menu for more:-
Saddlery -

(PH Royal, Paragon Saddle, County Saddle, Ambassador Saddles)
Show Horse Youngstock – (Royalwood Boy Soprano Stock)
All Breeds – Riding Ponies – (Stunning Broodmare)
Show Hunters $20k – $25k – (Childs Large Pony)
Show Hunters $5k – $10k – (Large Pony, Small Hack)
Show Horses $30k & Over (Champion Small Hack)
Show Horses $5k – $10k – (Welsh Pony Mare)
Wyong Produce NSW – We are very excited to announce our new Facebook Shop!!! You can now buy directly from us without leaving the comfort of Facebook. Upon Checkout all payments are directed through Paypal, where you can easily use your Paypal account or Credit Card.
Postage is worked out automatically and will be added when checking out on the total weight of your items. You can even nominate if you want Express or Regular post!
Please check it out using the Shop tab on this page. We have only put some of our huge range on so far, so dont forget to have a look at our website.
Wyong Produce & Second Hand Saddlery
Supplying all your Livestock and Farming needs on the Central Coast of NSW. We also supply a huge range of quality second hand saddlery items.