Welcome to Emma's Newsroom:- NOVEMBER 2014.

New:- Premium & Standard Classifieds, SOLD Feedback

Order your ESH Accessories now for Christmas Delivery.
Email us at:- sales@emmaswebsite.com.au or view our 'Contact us' menu tab for further details.
'Premium Listings' shown below – click photos to view.' Top 30′ Standard listings shown further below

CURRENT NEWS ITEMS FOR VIEWER INTEREST:-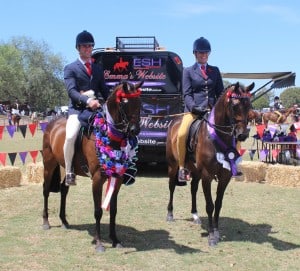 2014 ESH Championships – Official Results 
Official results are now available in our Championships pages – see above for 2014 Results along with previous years. Competitor Around the Grounds photos will be published over the coming days.
Thank you to all competitors & Sponsors for their support.
Emma's Collage photos & official results – Click here to view >>
2015 Event Programs & News
Emma's Website is now getting back to normal following our ESH Championships. We will be updating our Event Programs pages with 2015 Date Claimers & programs – we ask any associations or shows to email us with any news regarding next years shows, so that updates can be reflected on the pages.
Accessories Updates, Instock Garlands & other news will now continue.
Latest 30 Classifieds – Also see menu above for more listings.
TODAY'S LISTINGS:- Schoolmasters, Horse Floats, Show Horses, Saddlery.
To join the Emma's Website Public Facebook pages – Click here >>