Welcome to Emma's Newsroom:- JULY 2014.

Today:- Classifieds, Event Programs, Sold Notices.

Sold Feedback on Emma's – See below for recent successes.
Email us at:- sales@emmaswebsite.com.au or view our 'Contact us' menu tab for further details.
New 'Premium Listings' shown below – click on view details.' Top 30′ Standard listings shown further below

CURRENT NEWS ITEMS FOR VIEWER INTEREST:-
Emma's Business Advertiser's Updates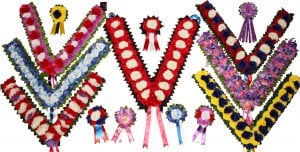 •   Instock Garlands
New Garlands now being made in 2 & 3 Row garlands in the following Rose & Flower colours – Reds, Purples, Navy, Light Blue's, Yellow's, Pinks and Creams. Photos will be online shortly. Idea for Events looking for just a few Garlands ready made. www.facebook.com/InstockGarlands 

•   Peter Horobin Saddlery
New soft Leather girth and elastic at both ends. This girth is designed and contoured for comfort. "Softy Girth"
www.horobin.com.au
•   Wyong Produce & Second Hand Saddlery
Currently have a large number of Second Hand Show Saddles available for purchase. From Bates Caprilli's to Wintec's – Stubben, Don Stuart's, Synthetic Saddles & More. Also instock Brand New Double Bridles, Rider Attire and Muck Boots. See our site for full details. Individual items will be listed on Emma's website in the coming days. www.wyongproduce.com
SEE BELOW FOR RINGSIDE CHATTER & ADVERTISER NEWS
Latest 30 Classifieds, in the following categories.
Today:- Show Horses, Saddlery, Horse Floats, Youngstock, Show Hunters

MORE ADVERTISER & RINGSIDE CHATTER NEWS:-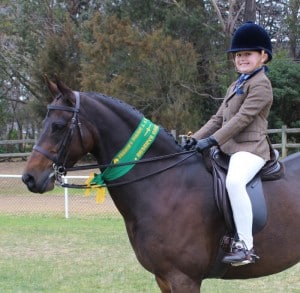 News From Emma's – Show Team
•   Farleigh Calypso & Ellie
This weekend saw our own Ellie Rudder achieve another goal in her riding with 'Joey'. She competed in her first Open Class beautifully completing a full workout with all Canter changes, lengthens and a lovely sitting trot. Those who have followed Ellie's progress will understand just how much of an achievement this was for her & her confidence. Together they were Reserve Champion Pony and also winning the led Class.
Ellie is excited to be competing at the NSW Arndell Interschool Championships coming up.  Ellie will be turning 10 in a few weeks and is delighted to no longer compete in walk and trot events. Her next aim is to be competing with her other pony Fairfield Bolshoi and hopes to soon be able to compete in Childs Open & Show Hunter events at NSW Show Horse Championships.
Thank you to our viewers for their encouragement of Ellie.