Welcome to Emma's Newsroom:- DECEMBER 2014.

New:- Classifieds, Instock Garlands,

We are OPEN for Classifieds, Accessory Orders & Garlands. 
Email us at:- sales@emmaswebsite.com.au or view our 'Contact us' menu tab for further details.
'Premium Listings' shown below – click photos to view.' Top 30′ Standard listings shown further below

CURRENT NEWS ITEMS FOR VIEWER INTEREST:-


Emma's Accessories – SUMMER SPECIAL
Emma's Accessories is having a sale on ALL Main Colour NAVY BLUE or BLACK Feedbins & Haybags. Many colours of Binding and Designs available. Custom Embroidery also available. Just $45.00 for Feedbins and $40.00 for Haybags – with no payment required until after 5th January 2015 with dispatch. Email us at sales@emmaswebsite.com.au

ORDER NOW – Garlands for early 2015 Events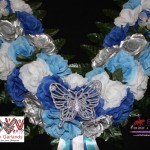 Instock Garlands are fully stocked with a wonderful range of Roses, along with embellishments such as Diamontes, Crystals, Polo Ribbon Trims and much more to create special Triple Row V-Neck Garlands in various sizes for your events.
Quantities up to 10 can be ordered in matching or different colours. See our Galleries for recent sold designs. We will be working through the festive season on a great range of Instock – Ready to Go Garlands. Order through Emma's Website.
The latest 30 Classifieds on Emma's
.
NEW LISTINGS:- Show Hunters, Show Horses, Saddlery.
To join the Emma's Website Public Facebook pages – Click here >>