Welcome to the Emma's Website Newsroom 

New:- Premium & Standard Classifieds, News.

New Event Programs now online for NSW, VIC & ACT
Email:- sales@emmaswebsite.com.au or view 'Contact us' menu tab.
Premium Listings shown here. Recent listings shown further below.

..
2015 Emma's Show Horse & Breed Championships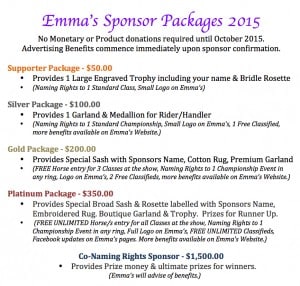 Schedule Now Online!  Click here >>
Just some of the Benefits we offer to Sponsors of our Championships! Not many shows offer such great incentives – 12 months of benefits, more than a Show announcement.
FREE Horse Entry to all Classes at the Show
FREE Unlimited Classifieds on Emma's Website
Full Logo's with links on all pages on Emma's Website
NO Monetary donations required until October 2015
Logos on all pages of Emma's, Announcements, Trade Stands.
Championship Classes now available for sponsorship. Full Class schedules now available - Click here to view >>
..

Recent Show Garland Orders – Sponsorships Available.
Ready made or quantities available for custom orders.  A large selection of Ready Made Garlands also on our website. Triple & Double Row  Straight & V-Neck Garlands with matching Rosettes.  Click here to view >>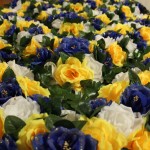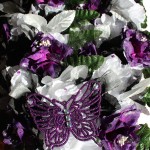 ..
 ..

Order your Accessories for August Events. 
Full Waterproof PVC (Not Vinyl), extra strength, durable clips.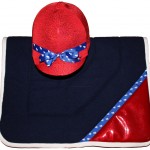 ..

The latest 30 Classifieds on Emma's.
 NEW LISTINGS:- Horse Floats, Equine Products, Saddlery, Show Hunters, Show Horses
Another 8 SOLD Notices from Listings on Emma's, see below for feedback.
.. 
To view all Classifieds available on Emma's – See side menu above or

Click here >>