Welcome to Emma's Newsroom:- JULY 2014.

Today:- Premium & Standard Classifieds, SOLD Feedback

FINAL DAYS for the ESH Accessories Special Offer!
Email us at:- sales@emmaswebsite.com.au or view our 'Contact us' menu tab for further details.
New 'Premium Listings' shown below – click on view details.' Top 30′ Standard listings shown further below

CURRENT NEWS ITEMS FOR VIEWER INTEREST:-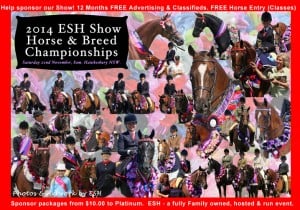 ESH Show Horse & Breed Championships
ENTRIES NOW OPEN!! – Judges Profiles, Full Schedule & Entry details now online. See link below for full details. Even more exciting announcements for Show Classes to come shortly!
Sponsorship Packages include Free Show entry & 12 Months advertising!
See ESH Championships main menu tabs above for full details. Entries through NOMINATE or contact us for Direct Debit entry forms.
SEE BELOW FOR RINGSIDE CHATTER & ADVERTISER NEWS
Latest 30 Classifieds, in the following categories.

MORE ADVERTISER & RINGSIDE CHATTER NEWS:-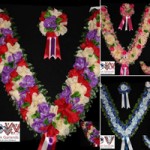 Instock Garlands
Emma's Website is a Stockist for ready made garlands by one of our Advertisers - Instock Garlands. They can be purchased and posted through us or collected through Wyong Produce NSW. Ideal for Events requiring 1 or 2 Garlands or for last minute Sponsorship needs. $60.00 ea, Arm/Bridle Garlnds $15.00. Unfortunately no custom orders – only ready made Garlands available.
See our Main menu above for full details of Garlands currently available or view https://www.facebook.com/InstockGarlands